Thursday, March 10, 2005
More official business: A Mascot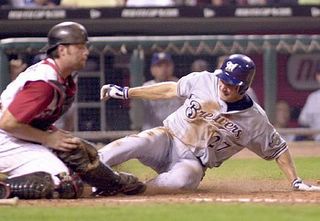 Official "Brew Grit" Mascot: Brady Clark
I know, I know, the "official business" that I'm taking care of in these two most recent posts may be dull, but it has to be done. After thinking long and hard about an official mascot/hero for the BG, I came to one conclusion: it can be no other than new everyday CF Brady Clark. No Brewer, current or likely even past, can match the grittiness, intensity, and ability to get to first base that Clark posesses. Many scoffed at the idea of Clark becoming the starting centerfielder and lead-off man for the new-look Brew Crew, ignoring his superior on-base skills and defense in comparison to Scott Podsednik. Face the facts - "Scotty Po" was a one-trick pony, and his one trick (SB) wasn't even that valuable when you consider the fact that stealing first has not yet been written into the rules. This past winter, Doug Melvin decided it was time for an upgrade. No more ponies - it was time to trade it in for a full-grown "Caballo". Thus, Brady Clark's reign as everyday player began. It was a long journey, as chronicled in this
piece from "The Oregonian"
, but finally he appears to have reached his destination. Clark exudes the qualities valued at "Brew Grit", and I know he will succeed in his new roles as both CF/lead-off man and "Official Mascot of Brew Grit". Some may disagree with this decision. To them I have one simple question: who else?
Comments:
I've got to agree with you there. Brady makes all the sense in the world to be starting in center right now.
Post a Comment
<< Home