Tuesday, March 15, 2005
ST Game 13 recap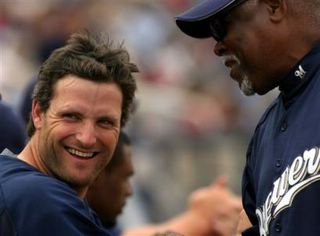 Branyan (AP Photo/Roy Dabner)
Brewers 6 - Royals 3
The Brewers picked up
another victory
yesterday in Cactus League action. However, there were some negatives. Ben Hendrickson continued his rocky spring, even though he picked up the win. Hendy struggled with command of his curveball and was roughed up a bit, giving up 3 runs, 5 hits, and 2 BB in his two inning stint. Wes Obermueller followed with 4 excellent innings of shutout ball. Hopefully, the braintrust doesn't weigh the ST stats too heavily in regards to the pitchers. Hendrickson has a chance to be a much better pitcher than Obermueller, but it may be in the best interests of the club and Lil' Ben for him to start out the season in Nashville and for a pitcher like Jorge de la Rosa or Obermueller to take his spot in the rotation. It seems people did have too high of hopes for Hendrickson, even though it seemed all along that his ceiling was that of a third starter type. All I hope for out of him is league average production, which would be an excellent upgrade over the Franklins, Kinneys, and Obermuellers of years past. Once again though, before anyone gives up on Hendrickson after 6 IP in Arizona, bear in mind the fact that he dominated AAA last season with an ERA under 2.50.
On the offensive side, Russell Branyan continued his hot spring going 3-3 with a HR and a 2B. If he doesn't win the starting job, it tends to give some credence to the folks who claim conspiracy is leading to Helms getting more playing time due to his friendship with Yost. Branyan can flat-out mash, and for a team with a dearth of power last year his presence for an entire season could mean a lot. He also plays acceptable defense, especially compared to the display Helms put on last season. Damian Miller also went 3-3 with an RBI. He will be a huge upgrade over the play of Moeller/Bennett last year if he simply puts up his career average OPS in the .740 range.
Today, the Brewers (8-5) have a split-squad of night games. Sheets faces Pedro Astacio and the Rangers in one, while the Brewers/Giants matchup features Chris Capuano vs. Jason Schmidt.