Monday, March 07, 2005
ST Game 5 (Recap): Brewers vs. Mariners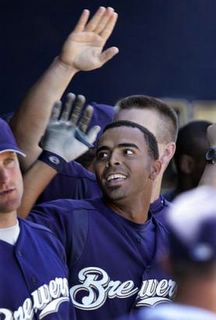 Nelson Cruz (AP Photo/Elaine Thompson)
Another day,
another win for the Brewers
in Cactus League play. The Brewers rode prospect Nelson Cruz, acquired this winter from Oakland along with Justin Lehr in exchange for Keith Ginter, who hit a two-run HR and added an RBI single for good measure. Lyle Overbay and Enrique Cruz also went deep for the Crew, with Cruz's HR being a Grand Slam. Doug Davis started, and struggled, as is to be expected, in his first appearance of the spring season. He gave up 3 earned runs in two IP, while striking out no one. However, the pitching star of the day was definitely Jorge de la Rosa, who struck out four Mariners in two innings of work while walking no one and surrendering just one hit. Twenty-one year old Dana Eveland also did a nice job working out of a two on, none out jam in his lone inning. Next, the Brewers take on the Padres and Mariners in split-squad action tomorrow. Once again, if you saw the "live" blogging earlier, and had any opinion on it whatsoever, please feel free to comment or send me an e-mail.
Comments:
I think the live blogging is good for spring training games, but come the regular season, mlb, cbssportsline and espn all have very good live followings on the internet.
Post a Comment
<< Home