Wednesday, April 06, 2005
Game 2: Brewers (10) @ Pirates (2)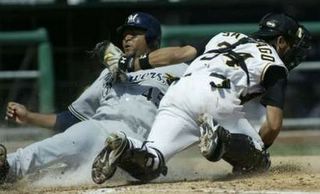 Lee (AP Photo)
The Brewers completed the two-game sweep today in Pittsburgh, pounding the Pirates 10-2. Behind strong pitching by Doug Davis and the pen, and excellent managing by Ned Yost, the Brewers moved to 2-0 on the young 2005 season. This game, much like Monday's, featured an excellent offensive attack by the Brewers. Led by Carlos Lee and Russell Branyan, the Crew walked and slugged their way to 10 runs. Lee hit his first HR as a Brewer, and also doubled in two runs and finished with four RBI. Branyan, in typical Russell the Muscle fashion, hit two 2Bs, and K'd twice. Just another day at the office for Mr. 3TO. Doug Davis was his typical dealing self, tossing 5 shutout innings before surrendering a HR to Tike Redman in the 6th. Wes Obermueller, Tommy Phelps, and Jorge de la Rosa took over from there.
"Brew Grit" Player of the Game: Carlos Lee (2-5, 2B, HR, 4 RBI, 2 R)
Next Up: Brewers (Capuano) @ Cubs (Wood), 1:20 CT Friday
Comments:
And are we getting some gutty starting pitching or what? It's nice to see the big guys get some outs and set a tone, both for their own individual seasons and for the rest of the rotation.
Post a Comment
<< Home