Saturday, April 30, 2005
Brewers come back on Reds
Miller (AP)
In a truly aggravating game, the Brewers somehow beat the Reds by a score of 6-5 on a bases loaded walk-off single by Damian Miller in the 9th inning. The game started poorly, and generally stayed that way, until the 7th inning. If you missed that "sick to your stomach" feeling you got every five days last year, known as Wes Obermueller-itis, you weren't disappointed today. He was generally knocked around in his 3.1 innings, but at least Ned had the guts to pull him quickly. This was one of few things Yost did correctly today.
My daily disillusionment with Nedly started early today, at 12:20 CT, when the lineups were released. Two things immediately stuck out to me: 1.) Why the hell is Bill Hall batting 2nd?, and 2.) Why the hell is Russell Branyan batting 7th? Now, Hall has been playing well lately, but putting him in the 2-hole made little to no sense, as he has quite a shaky past when it comes to things like getting on base (he doesn't), and making contact (he doesn't). In fairness, Hall was leading the team in P/PA with 4.54, and had walked more than he K'd coming into the game. Hall did break up Paul Wilson's no-hit bid (!) with a single with two out in the fifth, and went 2-5 with an RBI and run scored. Chalk that one up as a move that worked, just hope you don't see Hall hitting second often. I just don't like the idea of giving Hardy all these days off. If Hall is being played because of his patience, over Hardy and his 11 BB in 55 AB, it makes no sense. It seems like Hardy's bat is starting to come around, and he's been on base in six of his last 15 plate appearances. Let the kid play!
The Branyan situation really irked me, however. Why, on a day when Chad Moeller is playing, do you hit "The Muscle" 7th? He has some of the best power in the league, and is playing at an all-star level, yet he gets put in the 7-spot. Golden Boy Jeff Cirillo, on the otherhand, gets plunked into the 2-hole on nights when he plays because he is a "professional hitter", and "prototypical #2 hitter". Yet, don't professional hitters put up lines closer to Branyan's .326/.396/.721 than Cirillo's .196/.339/.370? I get it - one of those is a really good professional hitter, and the other one isn't. Anyhow, this is an anti-Yost post, not an anti-Cirillo post, so back to the subject at hand. Chad Moeller was hitting behind Branyan today. Moeller is the worst player in the league, cut and dried. The result of this brilliant lineup was Branyan being pitched around in his first three plate appearances, resulting in three walks. In one of these situations, Branyan was walked to load the bases for Moeller, with one out. Moeller promptly proved the Reds right by popping up the first pitch weakly to the left side. The aforementioned "professional hitter" Cirillo followed up with a nearly-identical pop-out. Chad Moeller needs to go, and it wouldn't bother me one bit to see Cirillo sent down in favor of Kevin Orie, who has posted a line of .396/.515/.679 at Triple-A Nashville. Nonetheless, when Branyan was finally pitched to in the 7th inning, he responded like a good professional hitter, and tied the game with a double down the right field line. He did also have a chance to win the game in the 9th, with the bases loaded and no outs, and popped out to second. However, Moeller's offensive replacement followed up with the game winner.
Put a Bow on it
The Bow (AP)
Derrick Turnbow continues to impress as a 9th inning man, making this look like an excellent move by Yost. What's amazing is how much Turnbow's stock has soared, including this bit from Fanball:
Danny Kolb saved 39 for the Brew Crew last year and so far, indications are Turnbow is three times the closer Kolb ever will be.
Amazing how times have changed for Turnbow, who went to Arizona to fight for a job, and left as the best pitcher in an up-to-now rock solid bullpen. I'd still love to see Adams get more work, as well as Wise, and see Tommy Phelps get less. However, Phelps is a decent pitcher. I believe I have said this earlier, but Phelps' career ERA out of the bullpen was 2.42 coming into this season, as opposed to his ERA as a starter (5.85). So, as long as the Brewers don't get any crazy ideas and try him as a starter, they may have a very useful LOOGY on their hands. And, if Phelps falters, Julio Santana, who had dominated AAA before getting the call-up to take Ben Sheets' roster spot, could slide in to the low-leverage role.
Monday, April 25, 2005
Derrick Turnbow: "Closer"
"I would say if we got a save situation in the ninth inning, Turnbow is going to be pitching."
- Edgar Frederick Yost
Another managerial move was made by Ned Yost in San Fran, this one involving the "closer", or "guy who gets three outs with a three run lead", spot. Somewhat inexplicably to me, Mike Adams was yanked from 9th inning duty in favor of Turnbow. In my opinion, Adams has much better stuff, and hadn't even pitched poorly to this point in the season. In seven appearances, Adams has compiled an ERA of 4.05. The only discouraging development regarding the lanky one was his increased walk rate (6 BB/6.2 IP). Obviously, the small sample size alarm has to go off at some point, doesn't it? Six innings to determine that Adams has suddenly become John Rocker? I still think he is the best pitcher in the bullpen, and time will prove me right. If Melvin and Yost decided to use Adams as a Chad Bradford-type "relief ace", I'm all for it. However, if he is relegated to spot duty behind the likes of Ricky Bottalico and Tommy Phelps, I question the move. I remember joking after Turnbow picked up a save in spring training that maybe Melvin was going to drive up Turnbow's save total to the point that he was a "proven closer" and deal him off, a la Kolb. I may just be right.
Now, none of this is to rag on Derrick Turnbow. He has been highly effective out of a very good bullpen to this point, and likely will remain so. He has electric stuff, and probably the best fastball on the team. He will likely strike out close to or more than a batter an inning, and hitters have been lucky to even put the ball in play against him thus far. I'm not a believer in "makeup" or "a closer's mentality", so I think that with his stuff Turnbow will rack up a nice save total. Another excellent move by Doug Melvin, surprise, surprise. Let's take a look at how the bullpen should stack up:
LR - Obermueller (R), 2.25 ERA, 8 IP, 4 K/1 BB
MR - de la Rosa (L), 3.52 ERA, 7.2 IP, 10 K/7 BB
MR - Phelps (L), 8.44 ERA, 5.1 IP, 3 K/2 BB
MR - Bottalico (R), 3.68 ERA, 7.1 IP, 4 K/1 BB
MR - Wise (R), 0.96 ERA, 9.1 IP, 7 K/3 BB
SU - Adams (R), 4.05 ERA, 6.2 IP, 5 K/6 BB
CL - Turnbow (R), 2.08 ERA, 8.2 IP, 6 K/5 BB
The entire bullpen, outside of Phelps, has been extremely effective thus far. Even Obermueller, who gets a spot start tonight in place of Ben Sheets, has been good in light work, even though his inability to miss bats will likely doom him soon, like it always has. Phelps should really be replaced, even if it means calling up Jeff Bennett. Why this team has any use for a LOOGY who can't get lefties out is beyond me. However, I call a small sample foul on myself, as he has pitched to an ERA under 2.50 in his relief outings over his career. Even so, I would prefer to see the meaningful left-handed outs recorded by de la Rosa, who has the best raw stuff in the pen. Nonetheless, the bullpen is beginning to emerge as a strength, an likely will continue to be once Phelps is replaced by either Jeff Bennett or Justin Lehr.
The New Lineup
1. Clark - CF
2. Miller - C
3. Jenkins - RF
4. Lee - LF
5. Overbay - 1B
6. Spivey - 2B
7. Branyan/Helms/Cirillo - 3B
8. Hardy - SS

This lineup was devised by Ned Yost. Unlike most of Ned's moves this year, I actually agree with this one. Miller in the 2-spot is obviously odd, but he handles the bat well and has been getting on base at a .400 clip. The addition of an offensive catcher as competent as Miller could be the best move Doug Melvin has made thus far. Jenkins batting third is somewhat puzzling, but makes sense to the degree that he will see more fastballs, the only pitches he can somewhat hit, hitting in front of El Caballo. Lee in the cleanup spot needs no explanation, especially after his performance in yesterday's game against the Giants, and having Overbay behind him likely means he will be pitched around less. The move of Overbay to the 5-hole makes immense sense. He and Clark will almost undoubtedly be 1-2 on the team in OBP. The only hitter that leads off more innings than the fifth hitter is the leadoff man. Overbay is an excellent hitter in any situation, against any type of pitcher, and is well-equipped to hit anywhere in the order. Spivey's move to sixth was likely precipitated by his high K total to this point, but this seems like it will be a good spot for him, and maybe it will lead to Yost deciding against the hit-and-run and sac bunts he (over)used, to little effectiveness, with Junior hitting 2nd. Branyan's huge power is nothing but an asset, wherever he is used in the lineup. Hardy was likely going to hit 8th regardless of any reshuffling of the lineup, however he did hit 2nd on Saturday, which Ned said was likely to become commonplace by the end of the season. All-in-all, the new lineup has worked quite well, though it is impossible to tell if it had more to do with the rearranging of the hitters, or simply the hitters starting to hit.

A little late on this one
Joe Hamrahi sent me an e-mail last Wednesday with a link to an interview he did with stud second base prospect Rickie Weeks and asked that I post it for him. Here's the link:
Weeks Interview
. Enjoy a very well done interview with a mature young ballplayer.
Sorry...
For the lack of posting over the past week plus. I've been busy working, preparing for/watching the NFL draft, etc, and when I was going to post, Blogger was having problems. Again, a sincere apology for the lack of activity over the last week. Sorry for the inconvenience to those that have to have their BG "Fix".

Friday, April 15, 2005
More on Sheets
It's all but announced now, here's a story from the Journal-Sentinel:
Sheets signs 4-year, $38 million deal
The Milwaukee Brewers have signed pitching ace
Ben Sheets
to a new four-year contract extension worth approximately $38 million.
Sheets, 26, had signed a $6 million deal for 2005 in February, but left open the option of tearing it up and negotiating a new four-year deal or merely adding a three-year extension. The two sides agreed to tear up the old deal and sign a new extension through 2008.
The ballclub was set to make the announcement at a news conference at 3:45 this afternoon at Miller Park. Sheets is set to take the mound at 7 tonight against the St. Louis Cardinals.
Sheets, a first-round draft pick of the Brewers in 1999, comes off an all-star season in 2004 in which his 264 strikeouts was tops among all right-handers and his 2.70 ERA was the lowest in baseball. A lack of run support, however, contributed to a losing record of 12-14.
He has a 46-54 career record in the major leagues with a 3.92 ERA and 696 strikeouts.
New owner Mark Attanasio had said the signing of Sheets was a priority for the ballclub.
-By Tom Haudricourt and Drew Olson
Brewers lock up Sheets
According to
BrewerFan.net
and
Bruce Ciskie
, the Brewers and Ben Sheets have agreed to a long-term deal. Terms have not been disclosed as of yet, but a 3:45 PM CT press conference has been scheduled. Great news.
The Sheffield "fracas"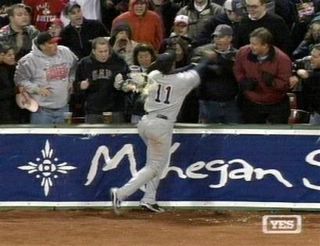 Sheffield and pals (AP)
Well, 24-hour sports radio folks rejoice! You have another inane, inconsequential story to fill the airwaves with today. This one involves a "fight" involving Yankees RF Gary Sheffield and a Red Sox fan that began following a swipe the fan took at Sheff, the ball, or both. Now forgive me. I know that as a Brewer fan, I must hate Gary Sheffield no matter what he does. However, he was right in this case. He also did a great job to restrain himself from inflicting serious bodily harm on a drunk moron who has no respect for the game he is watching, nor the stadium he is lucky enough to be in. There is no greater problem here, regardless of what the talking head expert types will say. No need for a higher fence, maybe just a need to quit selling beer. If that were to happen, it would decrease the chances of altercations like this recurring.
Game 8: Brewers (6) vs. Pirates (2)
Another fairly decent outing by a Brewers starting pitcher allowed the team to stay close before the offense finally produced in the 8th inning. Chris Capuano allowed two runs in five innings, while striking out three, walking two, and surrendering seven hits. He's going to have to start working later into ball games, preferably before June so as to keep the bullpen fresh. The offense in this game was provided by Lyle Overbay and Geoff Jenkins solo bombs, as well as a go-ahead double by Carlos Lee - that followed a peculiar bunt by Overbay. I call it peculiar for two reasons: 1) Yost called for his best hitter to bunt, and 2) it worked. It worked great once, but hopefully it won't be tried again. Brady Clark continued his on-base machine ways, collecting three hits and scoring a run. Clark's line now sits at .333/.450/.455, while Scott Podsednik nurses a pulled groin in Chitown, and ranks second on the team in runs created with 6.9.

"Brew Grit" Player of the Game: Lyle Overbay (2-3, HR, RBI, BB, 2 R)

Next Up: Brewers (Sheets) vs. Cardinals (Suppan), 7:00 CT Friday

Game 7: Pirates (4) @ Brewers (2)
This game was a vintage "Yosting", as ill-advised chances on the basepaths, accompanied by poor strategy, led to a loss to an inferior opponent. Mark Redman did his usual thing, dominating the Brewers for six innings, allowing just two first inning runs. Gary Glover posted a quality start in his first start at Miller Park, allowing three runs in six innings, while striking out six, walking two, and scattering eight hits. Glover has that "walking between raindrops" feel to him, and that's likely the way it will be all year. However, you have to like getting a start like that from your fifth starter. In order for the team to go .500, they will need at least league average pitching out of the fifth starter, and Glover is the most likely of the candidates to provide it. Outside of the first inning, the offense did little of anything, and when they were looking like they may score, a sacrifice attempt, hit-and-run attempt, and stolen base attempt were foiled. It may be time to stop playing with dead-ball era strategies, but apparently Ned refuses to simply let his best hitters do what they can do.

"Brew Grit" Player of the Game: Gary Glover (6 IP, 3 ER, 8 H, 6 K, 2 BB, 1 HR)

Tuesday, April 12, 2005
Game 6: Brewers (6) vs. Pirates (2)
Branyan (MJS Photo)
Yesterday's home opener was a truly great day, as it was the first opener I have been able to attend. It was also the first home opener with Mark Attanasio at the helm, and with Russell Branyan at the hot corner. Doug Davis contributed his second quality start in as many chances, holding the Bucs to 2 runs in 7 mostly solid innings. The true story of the day was the leader of the 3TO minions, as Branyan hit two HR, the first a monumental shot off the CF scoreboard. It was easily the farthest I have ever seen a ball hit, either at Miller Park or at County Stadium. Brew Grit mascot Brady Clark also went yard, as well as picking up a single. Clark's OBP through 6 games for the first place Brewers is .406, whereas Scott Podsednik's stands at .333. Aside from the HR, the most magical moment of the day was Jeff Cirillo's AB in the 8th. The majority of the park stood through the entire plate appearance, and erupted when he drew a walk. He will get the start tonight against the Pirates, expect the same crowd reaction again. As great as the Cirillo reception was, the one given Wes Helms was perplexing. Helms was booed by many in the crowd, which he hardly deserved considering that this was the home opener and he hasn't really done anything to deserve such treatment from his home fans. Hopefully, better days lie ahead for Wes, against LHP.
"Brew Grit" Player of the Game: Russell Branyan (2-4, 2 HR, 4 RBI, 2 R)
Next Up: Brewers (Glover) vs. Pirates (Redman), 6:30 PM Tuesday
Action over the weekend:
Since I was unable to get posting on the weekend and yesterday, here's some links to the recaps (as if you don't all know what happened), along with my picks for P.O.G., when applicable:
Game 3:
Brewers (6) @ Cubs (3), 12 innings
-"Brew Grit" Player of the Game: Junior Spivey (3-6, 2 RBI, 1 R, BB)
Game 4:
Cubs (4) vs. Brewers (0)
-"Brew Grit" Player of the Game: None, impossible when the team is one-hit
Game 5:
Cubs (6) vs. Brewers (5), 12 innings
-"Brew Grit" Player of the Game: Jorge de la Rosa (2 IP, H, 2 BB, 5 K)
Wednesday, April 06, 2005
Game 2: Brewers (10) @ Pirates (2)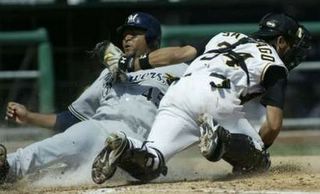 Lee (AP Photo)
The Brewers completed the two-game sweep today in Pittsburgh, pounding the Pirates 10-2. Behind strong pitching by Doug Davis and the pen, and excellent managing by Ned Yost, the Brewers moved to 2-0 on the young 2005 season. This game, much like Monday's, featured an excellent offensive attack by the Brewers. Led by Carlos Lee and Russell Branyan, the Crew walked and slugged their way to 10 runs. Lee hit his first HR as a Brewer, and also doubled in two runs and finished with four RBI. Branyan, in typical Russell the Muscle fashion, hit two 2Bs, and K'd twice. Just another day at the office for Mr. 3TO. Doug Davis was his typical dealing self, tossing 5 shutout innings before surrendering a HR to Tike Redman in the 6th. Wes Obermueller, Tommy Phelps, and Jorge de la Rosa took over from there.
"Brew Grit" Player of the Game: Carlos Lee (2-5, 2B, HR, 4 RBI, 2 R)
Next Up: Brewers (Capuano) @ Cubs (Wood), 1:20 CT Friday
Tuesday, April 05, 2005
Game 1: Brewers (9) @ Pirates (2)
Cirillo (AP Photo)
It was a great start to the season for the Brewers Monday in Pittsburgh. Ben Sheets pitched 7 effective innings, allowing 8 hits and 2 runs, while strking out 6. The star of the day, however, was new old Brewer Jeff Cirillo. Cirillo collected two hits, a HR and a 2B, off Pirates ace Oliver Perez, who was clearly without his best stuff, and also drew a walk and made an excellent run-saving play at third. "Brew Grit" mascot Brady Clark did us proud, getting HBP, a BB, a single, 2 SBs, 3 runs scored, 2 RBI, and excellent CF defense. The man has a chance to walk 90 times, in my opinion, and easily be among the leaders in P/PA (21/5 yesterday). Also, though I am not a fan of them per se, Clark could steal 30 bases. He is a much better player than Podsednik, and some fans will find that out this season. J.J. Hardy also had a nice game, collecting his first big league hit in a timely situation, knocking in two off Rick White during the Brewers 5 run 6th. Carlos Lee also collected his first hit as a Brewer, a 2B off Ryan Vogelsong in the 9th.
"Brew Grit" Player of the Game: Jeff Cirillo (2-3, HR, 2B, BB, 2 RBI, 2 R)
Next up: Brewers (Davis) @ Pirates (Wells), 11:35 CT Wednesday
Sunday, April 03, 2005
Juicy Sanchez?
Sanchez (MJS)
Former Brewer Alex Sanchez became the first publicly-identified steroid offender in MLB. He has been suspended 10 days. Here's a
little bit
from the AP:
ST. PETERSBURG, Fla. Apr 3, 2005 — Tampa Bay outfielder Alex Sanchez was suspended 10 days for violating major league baseball's new drug policy, the first player publicly identified under baseball's tougher rules. Major League Baseball announced the suspension Sunday. It begins on Monday.
Sanchez said he was surprised by the suspension, adding that he uses milkshakes and multivitamins to build his energy and blaming the positive test on something he bought over the counter.
"I'm going to fight it, because I've never taken steroids or anything like that," said Sanchez, who was released by Detroit in mid-March and signed by the Devil Rays.

Sanchez said he was drug tested while he was with the Tigers.

Friday, April 01, 2005
Baseball Prospectus says Brewers in 3rd / More love for J.J.
Obviously following "Brew Grit"'s lead,
Baseball Prospectus has picked
the Brewers to finish in 3rd place in the NL Central. They also picked Ben Sheets to win the 2005 Cy Young, and J.J. Hardy to finish 3rd in ROY.
Also on the Hardy front, recent Hall of Fame inductee
Ryne Sandberg has predicted
James Jerry to win the NL Rookie honors. Here's what Ryno had to say:
Rookie of the Year:
J.J. Hardy
,
Milwaukee Brewers
.
The shortstop will get a lot of playing time on the Brewers, enabling him to gain experience and work on his game. He's known for his great defense. Offensively, he's a right-handed hitter who showed a lot of promise in the minors, but he will have to adapt to facing big-league pitching. Hardy might be the first of many Rookies of the Year for Milwaukee, which has
Prince Fielder
, a power-hitting first baseman, and
Rickie Weeks
, a promising second baseman, coming up through the system.
Also, despite some e-mails from some Brewer-haters, I'll stand firm on the 3rd place finish. They'll do it.